USMC Photo
Qualification Day (Qual Day) is the last day of Firing Week during recruit training.
During Firing Week, the second week of marksmanship training, recruits begin before sunrise, preparing their rifles and themselves to shoot the known-distance course of fire.
Recruits prepare for rifle qualification day by firing rounds of both slow fire (one shot at a time) and rapid fire (10 shots in a row). Recruits fire from four shooting positions at ranges of 200, 300, and 500 yards.
As recruits practice shooting, they are assisted and evaluated by their Combat Marksmanship Instructor, their Coach, and their drill instructors. All are working to assist the recruit to ensure that the fundamentals have been learned, and that each recruit shoots the best that he or she can.
On Qual Day all recruits are trying to shoot their best and are striving for the coveted "Crossed Rifles" of the Rifle Expert badge. Recruits can also earn the Rifle Sharpshooter and Rifle Marksman badges.
Above information found on the Parris Island web site, August, 2009.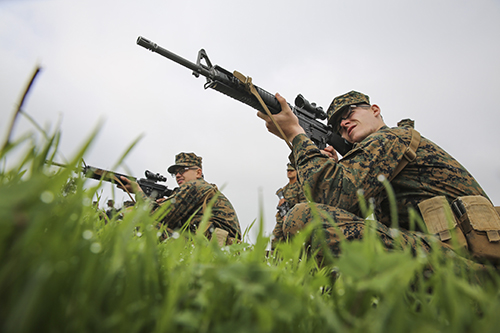 February 11, 2015: Camp Pendleton - Recruits of India Company, 3rd Recruit Training Battalion, learn rifle fundamentals during a class at Marine Corps Base Camp Pendleton, Jan. 20. Each platoon within the company was assigned a primary marksmanship instructor and given instruction on proper usage and operation of the weapon before the recruits qualify at Edson Range the following week.
— USMC Photo by Cpl. Tyler Viglione.