Announcements from RecruitParents.com
---
If it's new on the web site, you'll find it on one of our announcement pages! Different topics will be of interest to you throughout your Marine's career. Chose from the categories of Marine Parents' web sites to the right. The most recent announcements will be at the top.
Be sure to sign up for our twice-monthly newsletter to get additional updates and news. There's a signup box at the bottom of every page of the web site.
MCRD San Diego to Undergo Renovations
Added May 9, 2013
For approximately the next 12 months, there will be renovation construction that will limit the number of rooms available for recruits' parents at MCRD San Diego. Currently, MCRD San Diego is limiting the number of persons per recruit to a maximum of 4. This will remain in effect until they have their full inventory of rooms back. Please continue to call to see if space is available for your recruit's graduation. MCRD San Diego wants to make every effort to allow as many parents as possible to see their recruit graduate. Your patience during this time will go a long way in allowing as many parents as possible to experience staying on base.
Recruit Training Goes to the Dogs…Literally
Added March 29, 2013
Every Marine Recruit's journey begins with recruit training, and the same is true for the Corps' newest, youngest Recruit, Recruit Chesty XIV. Recruit Chesty is unique, however, in that he will be the only Marine in the Corps with his MOS—that of official Marine Corps mascot.
After being chosen as the Corps' new mascot in February, Recruit Chesty, then a nine-week-old English Bulldog, went through obedience school and "recruit training" under the watchful eye of his Drill Instructor and predecessor, Sergeant Chesty XIII, who is retiring after five years as the Corps' official mascot, and is expected to earn the title of Marine in a public ceremony today.
According to the Marine Corps' website, as the official mascot, "Chesty's responsibilities will include marching in the Friday Evening Parades and supporting various events around the National Capitol Region" and like all Marines will be held to a high, professional standard, as Sgt. Chesty XIII knows all too well, having been busted back in rank on at least one occasion during his time as mascot.
English Bulldogs became the Marine Corps' unofficial mascot in 1918, when a World War I recruiting poster showed a snarling English Bulldog in a Marine Corps helmet, and have been the Marine Corps' official mascot since Brigadier General Smedley Butler signed the enlistment documents of an English Bulldog named Jiggs in 1922. Since 1957, every mascot has been named Chesty after Lieutenant General Lewis "Chesty" Puller, the most decorated Marine in history.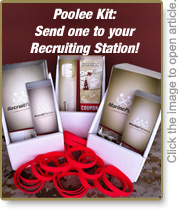 Marine Corps Recruit Station Annual Field Meet, a/k/a Poolee Night
Added February 23, 2012
A poolee is an individual who has already signed up to become a Marine but has not yet left for the 13 weeks of recruit training at boot camp. Every spring, Marine Corps recruiting stations around the United States hold "Poolee Night" to bring poolees and their parents together to learn what to expect and how to prepare for boot camp. Parents of recent graduates and parents whose sons and daughters are currently in boot camp can lend support and share information with the newest group of recruit parents. To help facilitate this sharing of information, the Corps Kit: Poolee Party kit is available for free.
Click here to learn more about this event and about the Poolee Party kit...
MCRD Parris Island Family Orientation Day
Added January 25, 2012
Beginning with the February 3, 2012 graduation, families of Recruits will be welcome to attend the new Family Orientation Day on the Wednesday prior to graduation. This wonderful opportunity will allow families to experience firsthand the journey their soon-to-be Marine is on, as well as learn important information about the Marine Corps.
Marine Family Network Launches
Added May 19, 2011
Attention Marine and recruit families! The message boards of Marine Parents, Recruit Parents and What's after Boot are moving to a new platform that allows greater opportunity to share with one another.
Marine Family Network is an online community that keeps all of our Marine families in the same interface for the duration of their Marine's career in the Corps. The migration to the new platform is under way. The current message boards will close by early June 2011.
Visit www.MarineFamilyNetwork.com to learn more and get signed up today!
Turning Americans into One of the Few
Added July 22, 2010

Give One Minute a Day for Wounded Warriors
Added April 1, 2010



Photos of Recruits in Training
Added December 06, 2009
November Session for Parents & Extended Family Members
Added October 8, 2009
The Recruit Parents Newsletter is Here!
Added July 20, 2009
News Concerning the H1N1 Virus (Swine Flu)
Added April 30, 2009
No Bus Rallies
Added November 22, 2008