Announcements from RecruitParents.com
---
If it's new on the web site, you'll find it on one of our announcement pages! Different topics will be of interest to you throughout your Marine's career. Chose from the categories of Marine Parents' web sites to the right. The most recent announcements will be at the top.
Be sure to sign up for our twice-monthly newsletter to get additional updates and news. There's a signup box at the bottom of every page of the web site.
Four Marines Killed in Attack on Tennessee Naval Facility
Added July 16, 2015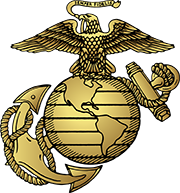 The following statement was announced on the Official U.S. Marine Corps Facebook page at approximately 2:30 PM, CST:
"The Marine Corps can confirm four Marine fatalities at the Navy & Marine Corps Reserve Center in Chattanooga, TN. Names of these Marines will be released upon notification of the next of kin.
We can also confirm one Marine Corps recruiter suffered a wound to the leg while working at the Chattanooga recruiting office, was treated at a local hospital and has been released.
Our priorities are focused on supporting the families of our Marines involved and assisting local investigators."
Cabbie Cuisine
Added June 27, 2014
Family Day is a busy day. To save you time deciding where to eat with your Marine, we're compiling a list of dining options in the Parris Island area.
Marine Corps Marathon Bibs are Still Available!
Added June 11, 2014
At this time, Team Marine Parents still has 24 bibs available for the 2014 Marine Corps Marathon. Each bib costs $110 and requires you to join Team Marine Parents and pledge to raise $500 for the Marine Parents outreach program of your choice (one of the smallest minimum fundraising requirements among all Marine Corps Marathon charity partners).
To join TMP and get your Marine Corps Marathon bib today, please click here...
Congratulations Graduates!
Added June 6, 2014
Congratulations to 3rd Battalion India Comapny of Parris Island, as well as 2nd Battalion Fox Company of San Diego for graduating boot camp Friday, June 13, 2014. A big ooh-rah goes out to all of you!

President Obama Nominates New Commandant
Added June 5, 2014
Today, Thursday, June 5, 2014, President Obama nominated General Joseph "Fighting Joe" Dunford as the next commandant of the Marine Corps. Dunsford, currently in command of coalition troops in Afghanistan, has served as an infantry officer for 37 years, since he was commissioned in 1977. Pending a Senate confirmation, Dunsford will relieve current Commandant Gen. James F. Amos this fall, who will be retiring after 43 years in the Corps.
Poolee Kits
Added February 24, 2014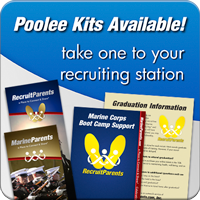 Our Corps Kit™: Poolee Presentation Kit is intended for use on a display table during Parents and Poolees functions put on by your local Marine Corps recruiting office.
The kit includes everything you need to spread the word about the Marine Parents outreach programs specifically for Recruit Parents during boot camp, including RecruitParents.com, Recruit Chat Night, and Marine Family Network. The kit includes display holders for the brochures for display during the parent and poolee events.
MarineParents.com Graduation Name Tags
Added February 7, 2014
At your Marine's graduation, if you would like to identify yourself as a visitor and participant to www.MarineParents.com web site, you can print a www.MarineParents.com Badge to wear. You've earned it and you can meet other parents who have visited the site, contributed to the site, and shared on the message boards.
MarineParents.com Helps a Marine Recruit's Parents
Added August 6, 2013
When parents learn that their sons or daughters have enlisted in the Marine Corps or are contemplating enlisting they sometimes go into the "This can't be happening" mode – particularly those with little or no military familiarity. An infinite number of questions immediately arise and sometimes there are no answers. Often there is a modicum of introspective soul-searching. Then the quest for facts and information begins. Fortunately, most recruiters by now know that connecting future Marine parents to MarineParents.com can be extremely beneficial and informative. Once connected, anxious and sometimes bewildered parents can take pleasure and reassurance in knowing that they are not alone and they have the backing and support of thousands of MarineParents.com volunteers and others who have gone down that same uncertain pathway that leads to the making of Marines and beyond.
MCRD San Diego to Undergo Renovations
Added May 9, 2013
For approximately the next 12 months, there will be renovation construction that will limit the number of rooms available for recruits' parents at MCRD San Diego. Currently, MCRD San Diego is limiting the number of persons per recruit to a maximum of 4. This will remain in effect until they have their full inventory of rooms back. Please continue to call to see if space is available for your recruit's graduation. MCRD San Diego wants to make every effort to allow as many parents as possible to see their recruit graduate. Your patience during this time will go a long way in allowing as many parents as possible to experience staying on base.
Recruit Training Goes to the Dogs…Literally
Added March 29, 2013
Every Marine Recruit's journey begins with recruit training, and the same is true for the Corps' newest, youngest Recruit, Recruit Chesty XIV. Recruit Chesty is unique, however, in that he will be the only Marine in the Corps with his MOS—that of official Marine Corps mascot.
After being chosen as the Corps' new mascot in February, Recruit Chesty, then a nine-week-old English Bulldog, went through obedience school and "recruit training" under the watchful eye of his Drill Instructor and predecessor, Sergeant Chesty XIII, who is retiring after five years as the Corps' official mascot, and is expected to earn the title of Marine in a public ceremony today.
According to the Marine Corps' website, as the official mascot, "Chesty's responsibilities will include marching in the Friday Evening Parades and supporting various events around the National Capitol Region" and like all Marines will be held to a high, professional standard, as Sgt. Chesty XIII knows all too well, having been busted back in rank on at least one occasion during his time as mascot.
English Bulldogs became the Marine Corps' unofficial mascot in 1918, when a World War I recruiting poster showed a snarling English Bulldog in a Marine Corps helmet, and have been the Marine Corps' official mascot since Brigadier General Smedley Butler signed the enlistment documents of an English Bulldog named Jiggs in 1922. Since 1957, every mascot has been named Chesty after Lieutenant General Lewis "Chesty" Puller, the most decorated Marine in history.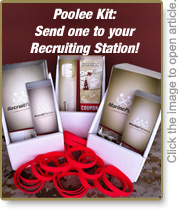 Marine Corps Recruit Station Annual Field Meet, a/k/a Poolee Night
Added February 23, 2012
A poolee is an individual who has already signed up to become a Marine but has not yet left for the 13 weeks of recruit training at boot camp. Every spring, Marine Corps recruiting stations around the United States hold "Poolee Night" to bring poolees and their parents together to learn what to expect and how to prepare for boot camp. Parents of recent graduates and parents whose sons and daughters are currently in boot camp can lend support and share information with the newest group of recruit parents. To help facilitate this sharing of information, the Corps Kit: Poolee Party kit is available for free.
Click here to learn more about this event and about the Poolee Party kit...
MCRD Parris Island Family Orientation Day
Added January 25, 2012
Beginning with the February 3, 2012 graduation, families of Recruits will be welcome to attend the new Family Orientation Day on the Wednesday prior to graduation. This wonderful opportunity will allow families to experience firsthand the journey their soon-to-be Marine is on, as well as learn important information about the Marine Corps.
Marine Family Network Launches
Added May 19, 2011
Attention Marine and recruit families! The message boards of Marine Parents, Recruit Parents and What's after Boot are moving to a new platform that allows greater opportunity to share with one another.
Marine Family Network is an online community that keeps all of our Marine families in the same interface for the duration of their Marine's career in the Corps. The migration to the new platform is under way. The current message boards will close by early June 2011.
Visit www.MarineFamilyNetwork.com to learn more and get signed up today!
Turning Americans into One of the Few
Added July 22, 2010

Give One Minute a Day for Wounded Warriors
Added April 1, 2010



Photos of Recruits in Training
Added December 06, 2009
November Session for Parents & Extended Family Members
Added October 8, 2009
The Recruit Parents Newsletter is Here!
Added July 20, 2009
News Concerning the H1N1 Virus (Swine Flu)
Added April 30, 2009
No Bus Rallies
Added November 22, 2008