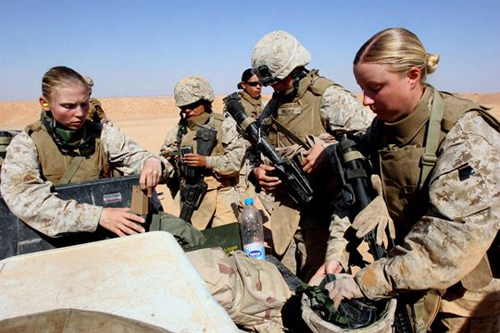 *Image info: Female Marines with the Lioness Program refill their rifle magazines during live-fire training at Camp Korean Village, Iraq, July 31,2006.
(USMC photo by Sergeant Jennifer Jones).
Marine Corps News: Corps Approves First Women for Infantry Positions
Added May 12, 2016

Marine Corps officials announced this week that later this year, the Corps will be getting its first female rifleman and machine gunner.
The two female enlisted Marines made lateral move requests to infantry jobs that have been approved, said Marine Corps spokesman Captain Philip Kulczewski.
The Marine who applied to be an 0311 rifleman is a Lance Corporal while the rank of the Marine approved to be an 0331 machine gunner is not yet clear.
The Marines who applied for infantry jobs are part of a group of 233 women who were granted infantry military occupational specialties earlier this year after passing the Corps' enlisted infantry training at Camp Geiger, North Carolina. While all of the 233 women are eligible to apply for infantry jobs, only these two Marines have done so to thus far.