Did Your Marine Graduate?
If your son or daughter has already graduated from boot camp, you can opt out of the "Recruit Newsletter" by entering your email address on the bottom left side of the newsletter called "Sign Up."
Parris Island
Graduation Dates
Visit the Recruit Parents pages on our OPSEC-compliant Marine Family Network. Click your Recruit's graduation date:
San Diego
Graduation Dates
Visit the Recruit Parents pages on our OPSEC-compliant Marine Family Network. Click your Recruit's graduation date:
Click to learn more ...
Gunny Pop's
New Book!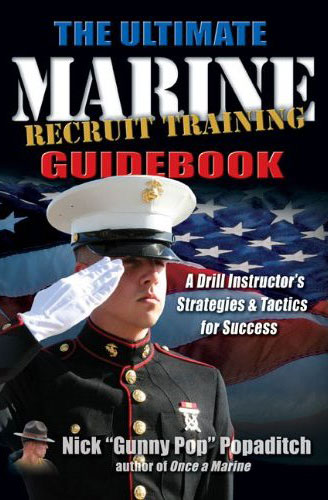 The Ultimate Marine Recruit Training Guidebook was written by a Marine and former drill instructor for young men and women who want to become one of the few and the proud. No one should undertake Marine recruit training without having read this book.
Recruit Chat Nights
Monday and Wednesday
8:30-10:00pm CT
For additional information about the Chat Room, please see:
What's After Boot
Important links:
Support RecruitParents.com
Honor Marines this month with these great books
Newsletter Sign Up
Greetings Recruit Families!


Congratulations to our newest Marines who graduated on

August 10: 2nd Battalion Fox Company of San Diego. Congratulations also to 3rd Battalion India Company and 4th Battalion Papa Company of Parris Island, which will graduate on August 17! A big Ooh Rah to all of our brave heroes!

For those of you who are just beginning your journey, we would like to welcome you and extend our congratulations!

You're on a new journey to becoming a Marine Parent. The pride is indescribable, but you may feel you are in an unfamiliar world with a whirlwind of emotions and never-ending questions. We are here to help you find the answers you've been looking for ...

Corps Respect: A Family Value

Becoming a Marine Parent

By now you've likely heard some new terminologies from your recruit or through reading information about the Marine Corps. While trying to get yourself wrapped around the meanings of some of these new terms, you might be seeing the same theme throughout, but you've not really been successful at labeling that term.

"Semper Fidelis" is Latin for "Always Faithful." Along with the shortened version, Semper Fi, these two phrases have been adopted as a Marine Corps slogan that is carried with all Marines for the rest of their lives. A Marine will always be a Marine; there are no ex-Marines. Every Marine, whether serving four years or 34 years in the Corps, will remain "Always Faithful" to the Marine Corps and the core values of honor, courage and commitment.
Warrior Culture of the U.S. Marines
A Must-Have for New Marine Parents!

One former Marine's take:

Warrior Culture of the U.S. Marines is the best summary of the culture of the Marine Corps I have seen in print. It's straightforward, honest, accurate and concise. It's an all-inclusive overview that hits every important topic with no fluff in between.


The text is written in a fashion that is both captivating and entertaining. There's no boring history here; this book will grab you with each page. From the birth of the Marine Corps and the Birthday Ball to the Mameluke Sword and the Blood Stripe, Sturkey leaves no aspect of the culture lacking.

It's true, there is much family and friends will never understand about their Marine's culture, but this book will get you about as close as you can get without stepping onto the yellow footprints yourself.
The GI Bill and Your Recruit


Learning More About the Corps

Your recruit will be offered an opportunity to sign up for the Montgomery GI Bill during recruit receiving.

The GI Bill is typically used for college expenses but can also be used for other professional opportunities. The cost of the GI Bill is nominal compared to the return, and the new Post-9/11 GI Bill offers extended benefits for our more recent service members. For additional information about the GI Bill, see the following links:
Learning New Terminology

Information for Recruit Parents

There are hundreds of acronyms in the United States Marine Corps (USMC) and all branches of the military, and there are hundreds of new terms to learn.

Recruits in Marine Corps boot camp learn to call a flashlight a "moon beam," a pen becomes an "ink stick," and the bathroom is "the head."

MarineParents.com created a terminology page as a starting point for recruit families. The reference contains terms that are most important to learn during recruit training.

Click here to read more terminology ...
Haircuts and Hygiene is in Details

Marine Corps Recruit Receiving

It is not uncommon to hear a statement like, "Marines sure do look sharp in uniform!" And some Marines say part of their motivation to join the Marine Corps was found in the desire to attain the honor of wearing the esteemed uniform.

Why do Marines look so sharp in uniform? The answer lies in their incredible attention to detail and strict uniform regulations that include specifications regarding haircuts and hygiene.

Recruits learn the importance of these regulations early on in boot camp because one of their first stops on the depot is the barber shop.
MCMAP and Pugil Sticks
Training Phase I - Getting Started

From its inception in 1775, the Marine Corps has distinguished itself as a martial culture. The legacy of the Corps is built upon the close combat of ships of sail, the storming of the bois de Belleau, and the holding of "Bloody Ridge" on Guadalcanal.


Drawing upon the rich tradition of promoting values and warrior ethos, the Marine Corps developed the Marine Corps Martial Arts Program, or MCMAP. It is a martial art that was designed to be and is the "synergy of mental, character and physical disciplines."


In addition to MCMAP, recruits train with pugil sticks. Many recruits never have experienced the realities of inter-personal violence found in close combat, and pugil sticks provides effective, but safe, "full contact" combative training at the entry level.
Team Week and Core Values
Training Phase II - In the Midst

Recruits learn, from training Day 1, that to be a Marine is to do what is right in the face of overwhelming adversity. To understand how to do what is right, they are taught about ethics and the core values.

The Corps' core values are Honor, Courage and Commitment. These values make up the bedrock of a Marine's character. During recruit training, recruits are taught these core values and the numerous others attached to them, such as integrity, discipline, teamwork, duty and esprit de corps.

Team Week is a time for recruits to demonstrate that they understand how to do what is right and that they are taking ownership of ethics and the core values.

School of Infantry (SOI)
Training Phase III - The Final Stretch

If your recruit is almost finished with recruit training and you're wondering what happens next, we encourage you to take a look at the website "What's After Boot?"

This WAB area is your place to transition from recruit training to the Marine Corps while your son or daughter is in SOI (School of Infantry) and MOS (Military Occupational Specialty) School.
Photos and Videos
About Boot Camp Graduation

During boot camp, recruits will have their photos taken with their platoon as well as individually in the "dress blues" uniform.

A video of graduation is also produced, and that video will include footage from each battalion. Both Parris Island and San Diego offer these services.

Your recruit will be given an opportunity to purchase the photos as well as the video. They will also be given the opportunity to order a yearbook, and at Parris Island, that will be the only time the yearbooks are available for order.