Gunny Pop's
New Book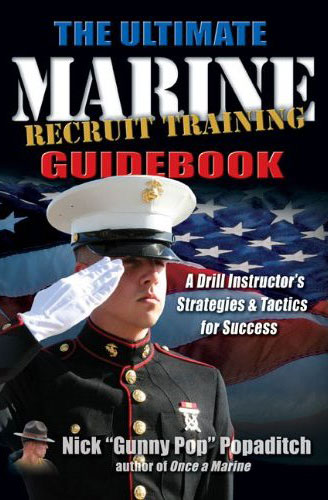 The Ultimate Marine Recruit Training Guidebook was written by a Marine and former drill instructor for young men and women who want to become one of the few and the proud. No one should undertake Marine recruit training without having read this book.
FOR SALE NOW! ONLY $18.95.
Did Your Marine Graduate?
A special note for parents of newly graduated Marines:
If your son or daughter has already graduated from boot camp, you can opt out of the "Recruit Newsletter" by entering your email address on the bottom left side of the newsletter called "Sign Up."

Change your options to remove "Recruit Newsletter" from your selections. Then, make sure to sign up for our Marine Parents newsletter to continue your journey!
Parris Island
Graduation Dates
Visit the Recruit Parents groups on our OPSEC-compliant Marine Family Network. Click your Recruit's Graduation Date:
San Diego
Graduation Dates
Visit the Recruit Parents groups on our OPSEC-compliant Marine Family Network. Click your Recruit's Graduation Date:


Recruit Chat Nights
For additional information about the Chat Room, please see:
What's After Boot
Important links:
Support RecruitParents.com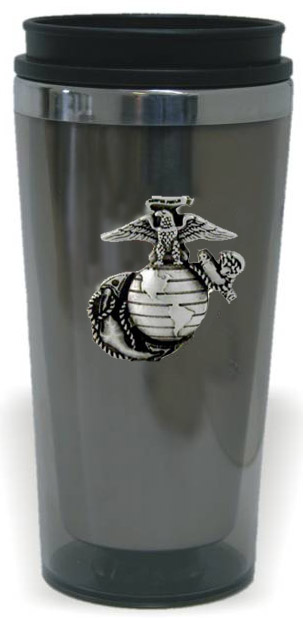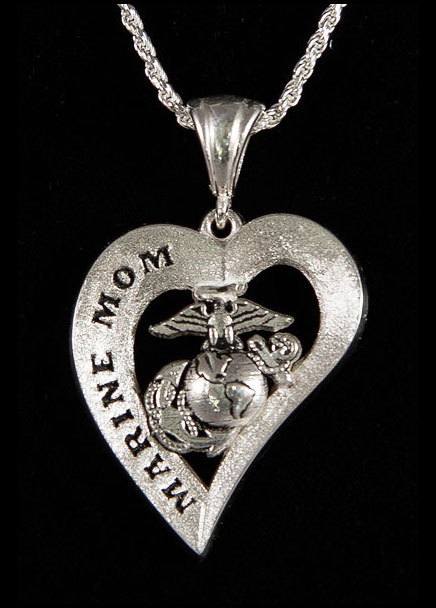 Marine Mom Necklace
Sign
Up
for
the
Newsletter
Or just text MARINEPARENTS to 22828!
Greetings Recruit Families!


Congratulations to 2nd Battalion Fox Company of San Diego and 1st Battalion Alpha Company of Parris Island, our newest Marines graduating Friday, July 20!

For those of you who are just beginning your journey, WELCOME and CONGRATULATIONS!

You're on a new journey to becoming a Marine Parent. The pride is indescribable, but you may feel you are in an unfamiliar world with a whirlwind of emotions and never-ending questions.

We are here to help you find the answers need. God bless, and Semper Fi!
Pack Day Goal Back on Track


Care Package Drive Still Needs You!




We asked, and you answered. Seriously behind in our shipping campaign goal of $20,000 for pack day on July 28 when we put out the word, our Marine Parents family answered.

We were afraid that we wouldn't be able to send 1,800 care packages to our Marines in Afghanistan like we originally expected, and we had made the decision to scale back this pack day until you came through.

Because of your generosity, we'll be able to send at least 1,000 boxes -- but now that we're this close, we want to go ahead and hit our goal of 1,800. If you've donated before, thank you! And if you can spare a little more, we -- and our Marines overseas -- would really appreciate it. If you haven't donated yet, there's still time.

One dollar. Something so little can do so much.

Search through the couch cushions. Raid your piggy bank. Dig into the bottom of your purse. Round up one dollar, ship it our way and help us send care packages to Marines who are doing so much to protect our freedom.

Thank you!

Click here to donate through our EGA Shop ...
Sale on Graduation Cards!

Proclaim Your Recruit's Graduation in Style

Packages of 10 are now available for $4.95! Send them to family and friends as a graduation announcement or as an invitation to your recruit's graduation celebration. The inside is blank, so you can add your own text using a printer. We also carry everything else you need for a great celebration, from matching garden flags, to napkins and balloons!
Helicopter Parenting



As parents, we strive to do what's best for our children. They have been under our care for the past 17-plus years, and letting go can be difficult.

We want to make their transition to U.S. Marine as painless and comfortable as possible, but we must remind ourselves that becoming a Marine is neither painless nor comfortable -- and it's not supposed to be. Furthermore, hovering as a parent will not alter the fact that boot camp is challenging and the intensity is necessary.

Marine training is a 13-week experience. It's reassuring to know that, if your Marine is in a combat situation sometime during the next four years, your child and the buddies to his left and right have been trained by the best to BE the best.
Semper Fidelis? Devil Dog?

The Marine Corps has a long and illustrious history dating to November 10, 1775.


Over the years, Marines have adopted the Latin motto "Semper Fidelis" and picked up nicknames like "Devil Dog."

From the Marines' Hymn to the famous Eagle, Globe and Anchor emblem, there are so many Marine Corps must-knows and so many questions for Recruit Parents to ask:


What does "Semper Fi" mean? Why are Marines called "Devil Dogs"? What are the lyrics of the Marines' Hymn?
Survival Tips

Information for Recruit Parents

When your son or daughter leaves for Marine Corps recruit training, you begin a new journey to become a Marine Parent. We have five important survival tips for recruit parents, and you'll be glad you know them.

1. Write letters -- a lot of letters.
Your recruit is homesick. Very, very homesick. Write lots of letters, and then write some more. Keep them upbeat. Send a small photo or two. DO NOT decorate the outside of the envelope with drawings, stickers or write any text other than the address and your return address (and no spritz of perfume, either). Extras will cause unnecessary attention from the DI, and your recruit does not want to draw the attention of the drill instructor during mail call.
Drill Instructor Creed
Marine Corps Recruit Receiving

Your recruit will be introduced to the drill instructors for the first time at the end of the first week in boot camp.

This is one of the defining moments in the recruit's training. Marines hold their DIs and SDI (drill instructors and senior drill instructor) in the highest esteem and with intense respect. Your son or daughter will do the same.

How do recruits move from first meeting their DIs to holding them in the highest esteem in just 13 weeks? The drill instructor creed says it all. These are not just words; this is the mind-set of every Marine drill instructor with your recruit. The drill instructors sacrifice much to live by this creed, and they make sure every recruit earns the title "United States Marine."
Confidence and "O" Courses
Training Phase I - Getting Started

Marine Corps recruits begin running the 'O' Course and the Confidence Course during the first phase of recruit training.

The 'O' Course, or obstacle course, is a cornerstone of the Combat Conditioning program. The course challenges the recruit's upper body strength as well as their technique on the course.

The obstacle course proves that brute strength alone is not enough to quickly negotiate it, and the recruits who work on technique find the course easier to run.

The Confidence Course, as its name implies, is designed to build the recruit's self-confidence.
Every Marine is a Rifleman
Training Phase II - In the Midst

"Every Marine a rifleman" -- no matter what their Military Occupational Specialty -- has been one of the hallmarks of the Marine Corps throughout its history.

From the Marine marksmen shooting from the high rigging on ships during the sea battles of the American Revolution; to the battle of Belleau Wood, France, in June 1918, during World War I where Marines hit German targets from more than 500 yards away; to Gunnery Sergeant Carlos Hathcock, a Marine sniper in Vietnam with a service record of 93 confirmed kills, Marines have set themselves apart by their shooting prowess.

To develop those skills, recruits will spend two weeks learning how to shoot the Marine Corps way.
Marine Week
Training Phase III - The Final Stretch

Training days 66 to 69 make up Marine Week; this is the last and final week of Recruit Training.

Marine Week is time where the new Marines learn to operate in a more decentralized environment. After 11 weeks of being told what to do almost every waking moment, this is a chance for them to show their Drill Instructors what they have learned about small-unit leadership, ethics and core values.

They are not recruits anymore, they are allowed to wear a watch, they move about the Depot as small units and are now addressed by their rank and last name -- or simply as "Marine."
Planning for the Trip
Learn More About Boot Camp Graduation

As planning for boot camp graduation begins, many recruit parents find themselves overwhelmed by an extensive list of questions and concerns: What do I wear to graduation? What do I need for base access? Can I take photos on the Depot?

We know the list of questions can seem never-ending, but RecruitParents.com is here to help as you plan for graduation.